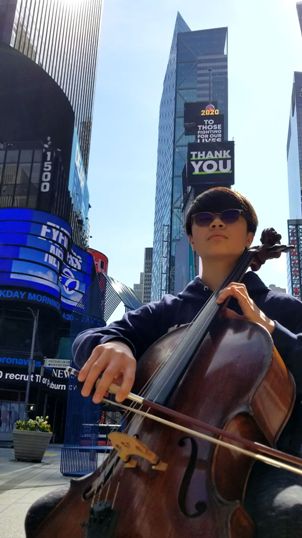 Video of Joseph Darcourt
1. Joseph Darcourt, age 12, Carnegie Hall Debut
Prelude from Cello Suite #3, J.S. Bach
2. Joseph Darcourt
Méditation de Thaïs, by Jules Massenet
3. Joseph Darcourt
Salut D'Amour, by Edward Elgar
4. Joseph Darcourt
Arietta, by Leroy Anderson
5. Joseph Darcourt: First composition, Debut at Juilliard
"The Night Is Still", by Joseph Darcourt
6. Joseph Darcourt
M&M / Music and Meditation, "Artist As Citizen" Juilliard School Project
When Joseph was 11, he created: M&M initiative / "Thank you" - Breathing, Meditation and Classical Music.
7. Calhoun High School cellist gives back through the power of music
Long Island Herald, October 29, 2020.
A Calhoun High School freshman, Joseph Darcourt of Merrick, has used his musical talents to raise money for Long Island Cares and The Harry Chapin Food Bank.
8. VOTE 2020: Read, Think, Vote
Salut D'Amour, by Edward Elgar
9. Joseph Darcourt, cello & Takeshi Nagayasu, piano
Cello Concerto in E minor Op. 85, I; Edward Elgar
10. Joseph Darcourt, Times Square
Amazing Grace
11. Joseph Darcourt, Times Square
Bach Cello Suite No. 2, Sarabande